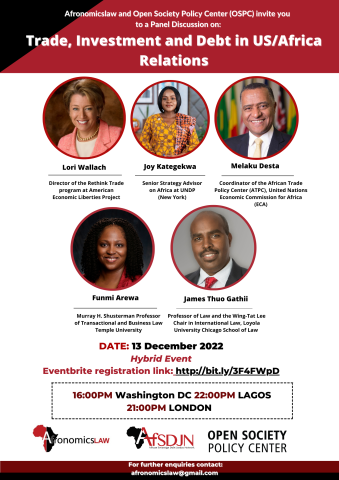 December 5, 2022
Afronomicslaw.org and Open Society Policy Center (OSPC) Invite you to a Panel Discussion on 
Trade, Investment and Debt in United States-Africa Relations
Date: 13th December, 2022
Time: 4pm Washington DC Time
Location: Yours Truly DC Hotel
Hybrid Event - Eventbrite Registration Link Here
This public event is hosted by Afronomicslaw.org – the leading forum on international economic law issues relating to Africa, and Open Society Policy Center. This hybrid event will be streamed live on YouTube, LinkedIn, Facebook, and Twitter handles of Afronomicslaw.org.
Please register here to attend in-person. In-person participants are invited to join us for a reception immediately following the event.
Event Description
In 2025, the African Growth and Opportunity Act, (AGOA), which provides African countries duty-free access for over 1,800 products to the United States will expire. AGOA has enjoyed bipartisan congressional support since its enactment. Its renewal will be crucial in supporting Africa's recovery from the economic downturn occasioned by the COVID19 pandemic, the climate crisis and the inflationary pressures sparked by Russia's invasion of Ukraine.
The U.S. is also exploring bilateral trade agreements with some African countries. At the same time, African countries are implementing a continent-wide trade agreement, the African Continental Free Trade Agreement, (AfCFTA). African countries are at an advanced state in their negotiations on the investment and intellectual property protocols. The consistency of bilateral trade agreements between individual African countries with the pan-African goals of the AfCFTA continues to raise concerns.
Many African countries have also experienced unprecedented levels of indebtedness, a problem compounded by the multiple crisis referred to above. The variety of initiatives defined so far to deal with this indebtedness such as the G20's Common Framework have proved far too inadequate.
Opening Remarks
Nikiwe Kaunda, Africa Policy Manager, Open Society-Africa
Panelists
Melaku Desta, Coordinator, African Trade Policy Center of the United Nations Economic Commission for Africa
Joy Kategekwa, Strategic Advisor on Africa, United Nations Development Program,New York
Lori Wallach, Director, Rethink Trade at the American Economic Liberties Project and Senior Advisor, Citizens Trade Campaign
Olufunmilayo Arewa, Shusterman Professor of Business and Transactional Law, Temple University Beasley School of Law
Moderator
James T. Gathii, Editor, Afronomicslaw.org.