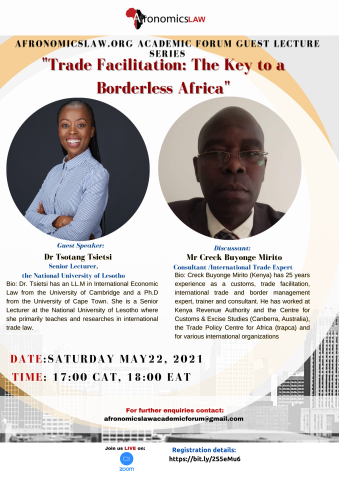 May 20, 2021
The Afronomicslaw.org Academic Forum invites you to join their next guest lecture series.
Title: Trade Facilitation: The Key to a Borderless Africa
Date: Saturday 22 May 17:00CAT, 18:00EAT
Lecturer: Dr Tsotang Tsietsi
Bio: Dr. Tsietsi has an LLM in International Economic Law from the University of Cambridge and a Ph.D from the University of Cape Town. She is a Senior Lecturer at the National University of Lesotho where she primarily teaches and researches in international trade law.
Discussant: Mr Creck Buyonge Mirito
Bio: Creck Buyonge Mirito (kenya) has 25 years experience as a customs, trade facilitation, international trade and border management expert, trainer and consultant. He has worked at Kenya Revenue Authority and the Centre for Customs & Excise Studies (Camberra, Australia), teh Trade Policy Centre for Africa (trapca) and for various international organizations including the African Union, World Bank and World Customs Organization. He has also consultaed on matters related to customs and trade facilitation accross many countries in Eastern, Southern, Central and Western Africa.
To register, click here