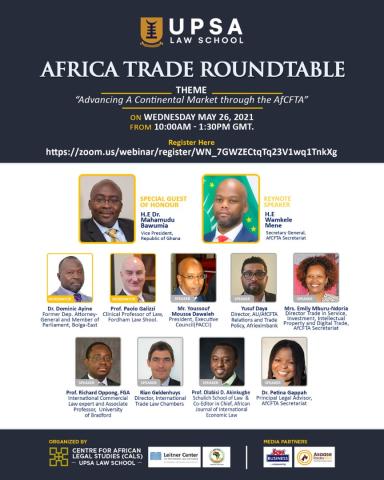 May 22, 2021
The African Continental Free Trade Area (AfCFTA) has been described as the most ambitious project for advancing economic integration on the African continent. The AfCFTA is the African Union's framework to establish a single continental market for goods and services with free movement of capital and business travelers. AfCFTA presents a chance to defragment the African market, thus enhancing competitiveness and serving as a vehicle to support the achievement of the Sustainable Development Goals.
It is against this backdrop that the Centre for African Legal Studies at the UPSA Law School (Ghana), in collaboration with the African Continental Free Trade Area Secretariat, is organizing the 1st Africa Trade Roundtable under the theme - "Advancing A Continental Market through the AfCFTA."
The event is scheduled for Wednesday, May 26, 2021, from 10:00 AM to 1:30 (GMT)
Register via this link.