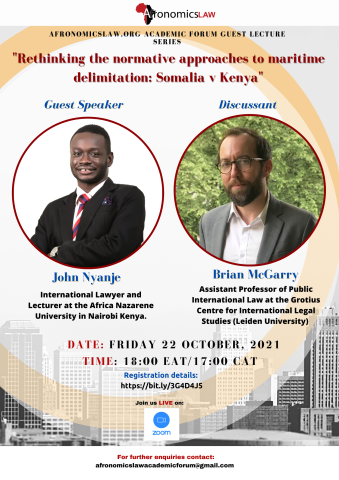 October 19, 2021
The Afronomicslaw.org Academic Forum invites you to join their next guest lecture series.
Topic: Rethinking the Normative Approaches to Maritime Delimitation: Somalia v Kenya
Date: Friday, October 22, 2021
Time: 18.00 EAT/ 17:00CAT
To register for this event on zoom, click here
Guest Speaker
Bio
John Nyanje is an International lawyer trained in Kenya and Switzerland and admitted to the bar in Kenya. Nyanje obtained an LLM in International dispute settlement from the MIDS (Universities of Geneva and the Graduate Institute of Geneva).  Nyanje holds a bachelor of Law degree from the Africa Nazarene University and a post-doctorate diploma from the Kenya School of Law which entitles him as an advocate of the High Court of Kenya. Nyanje has worked on cases in top law firms around the world on International Commercial Arbitration, Investment Arbitration, Sports Arbitration in institutions such as ICC, LCIA, SCAI, SIAC, PCA, ICSID, CAS, KIAC, NCIA and also ad-hoc tribunals. Nyanje currently teaches and researches in Public International Law, International Investment Law and Trade Law at the Africa Nazarene University in Nairobi, Kenya. 
Discussant:
Bio
Dr Brian McGarry is an Assistant Professor of Public International Law at the Grotius Centre for International Legal Studies (Leiden University) and Visiting Professor at Sciences of Law School in Paris. Dr. McGarry was previously a Lecturer at the Graduate Institute of International and Development Studies in Geneva and Visiting Scholar at the Lauterpacht Centre for International Law. A member of the New York Bar, he has advised governments, and international organizations in disputes and negotiations focused on the Law of the Sea, International Environmental Law, and International Economic Law. Dr. McGarry has contributed to international law capacity-building programmes administered by the T.M.C. Asser Institute and the UN Institute for Training and Research. In 2022, Cambridge University Press will publish his first monograph; Intervening in International Justice. 
For further enquiries, contact afronomicslawacademicforum@gmail.com