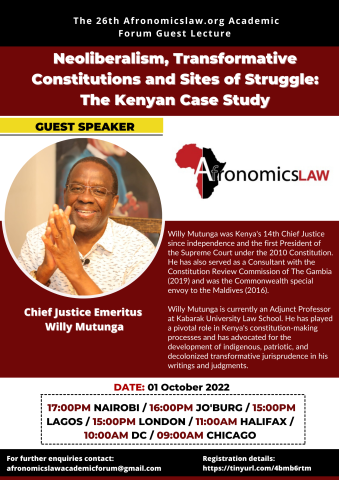 September 26, 2022
Title: Neoliberalism, Transformative Constitutions and Sites of Struggle: The Kenyan Case Study
Date: October 1, 2022
Time: 17:00pm Nairobi; 16:00pm Johannesburg; 15:00pm Lagos; 15:00pm London; 11:00am Halifax; 10:00am Washington DC; 9:00 Chicago.
Guest Lecturer:
Professor Chief Justice Willy Munyoki Mutunga, Rtd. (2011-16)
Bio:
Willy Mutunga was Kenya's 14th Chief Justice since independence and the first President of the Supreme Court under the 2010 Constitution. He has also served as a consultant with the Constitution Review Commission of The Gambia (2019) and was the Commonwealth special envoy to the Maldives (2016). He is currently an Adjunct Professor at Kabarak University Law School. Prof. Mutunga has played a pivotal role in Kenya's constitution-making processes and has advocated for the development of indigenous, patriotic, and decolonized transformative jurisprudence in his writings and judgments.