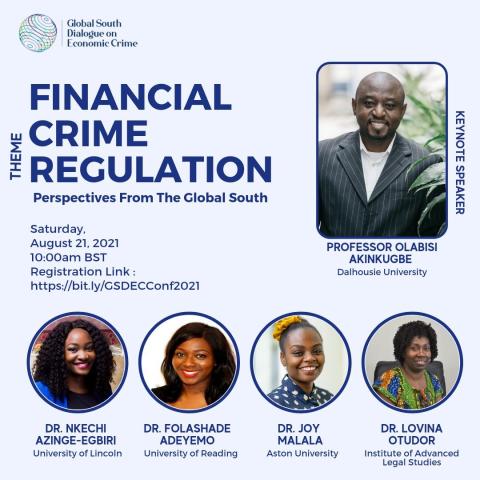 August 6, 2021
Global South countries continue to lose an immeasurable, though, significant amount of funds yearly to illicit financial flows (IFFs), notwithstanding improvements in global regulatory structures aimed at curbing financial crime. Consequently, it is critical to examine whether the current global regulatory framework is best suited to effectively combat financial crime in the Global South. 
The Global South Dialogue on Economic Crime #GSDEC is therefore pleased to announce her inaugural Conference themed "Financial Crime Regulation: Perspectives from the Global South". 
Join academic and practitioner experts as they explore a deep analysis of financial crime regulations in Global South Countries. 
Keynote Speaker: Professor Olabisi Akinkugbe, Dalhousie University
Moderators:
Professor Nicholas Ryder
Professor Ricardo Soares de Oliveira
Ross Delston
Dr. Folashade Adeyemo
Mr. Muazu Umaru
Speakers
Dr. Anselm Komla Abotsi
Ms. Luckystar Miyandazi
Dr Alexander Ezenagu
Ms. Varsha Singh
Director Xolisile Khanyile
Ms. Ilan Strauss
Ms. Mukupa Nsenduluka
Ms. Joy Waruguru Ndubai
Dr. Gedion Onyango
Dr. Ejemen Ojobo
Mr. Joseph Antwi-Boasiako
Dr. Immaculate Dadiso Motsi-Omoijiade
Dr. Catherine Arias
Ms. Mercy Buku
Dr. Constance V. W. Gikonyo
Professor Abdullahi Shehu
Dr. Nkechi Azinge
Ms. Cheludo Tinaye Butale
Dr. Chijioke Chijioke-Oforji
Ms. Souad Aden-Osman
Dr. Evelyn Ehigie
Dr. Joy Malala
Ms. Wambui Kariuki
Ms. Sandra Mututi
Professor John Hatchard
Date: August 21, 2021
Time: 10.00 BST 
To register click here.
Registration is FREE but mandatory.
For more information, click here