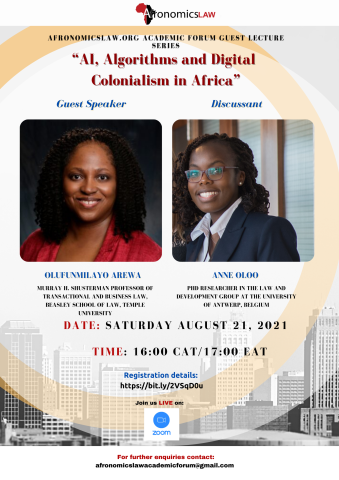 August 16, 2021
The Afronomicslaw.org Academic Forum invites you to join their next guest lecture series. 
Topic
AI, Algorithms and Digital Colonialism in Africa
Date: August 21 2021
Time: 4PM CAT/ 5PM EAT
To register for this event on zoom, click here
Guest Speaker: 
Bio
Olufunmilayo ("Funmi") Arewa is the Shuterman Professor of Business and Transactional Law at Temple University Beasley School of Law. She received an M.A. and Ph.D. (Anthropology) from the university of California, Berkely, and A.M (Applied Economics) from the University of Michigan, a J.D. from Harvard Law School, and an A.B. from Harvard College. Her research focuses on technology, music, film, business and African Studies. Prior to becoming a law professor, she practiced law for nearly a decade, working in legal and business positions in the entrepreneurial and technology startup arena, including law firms and companies in Silicon Valley, New York, and Boston. 
Discussant: 
Bio:
Anne Oloo is a teaching assistant and a PhD researcher in the Law and Development Group at the University of Antwerp, belgium. Her PhD research is on algorithm human rights accountability and focuses on inclusive regulation of online global media platforms. She holds a Bachelor of Laws degree (LL.B) from the University of Nairobi and an LL.M in International and European Law from Ghent University. Her research interests include human rights, digital rights, public international law, decoloniality and sustainable development. 
For further inquiries, contact afronomicslawacademicforum@gmail.com