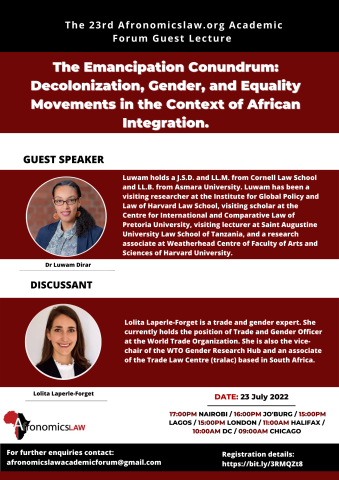 July 19, 2022
23rd Academic Forum Guest Lecture: The Emancipation Conundrum: Decolonization, Gender, and Equality Movements in the Context of African Integration
Date and Time: Jul 23, 2022 05:00 PM in Nairobi
Registration link here.
Guest Speaker:
Luwam Dirar holds a J.S.D. and LL.M. from Cornell Law School and LL.B. from Asmara University. Luwam has been a visiting researcher at the Institute for Global Policy and Law of Harvard Law School, visiting scholar at the Centre for International and Comparative Law of Pretoria University, visiting lecturer at Saint Augustine University Law School of Tanzania, and a research associate at Weatherhead Centre of Faculty of Arts and Sciences of Harvard University. Her research and scholarship interests include comparative law, feminist international law and international relations, international economic law, and African integration law.
Discussant:
Lolita Laperle-Forget Lolita Laperle-Forget is a trade and gender expert. She currently holds the position of Trade and Gender Officer at the World Trade Organization. She is also the vice-chair of the WTO Gender Research Hub and an associate of the Trade Law Centre (tralac) based in South Africa. Her research focuses on the legal aspect of trade and gender issues, with a particular interest in the gender provisions included in trade and investment agreements. She has also published in the area of international public law and WTO trade law. Prior to joining the WTO, Lolita worked at tralac, where she led a research project on gender mainstreaming in African trade and investment agreements and developed a framework to analyze the commitments for gender equality undertaken by African states in RTAs. She holds a Masters in International Law (LL.M.) and a Bachelor of Laws (LL.B.) from the University of Sherbrooke, Canada.