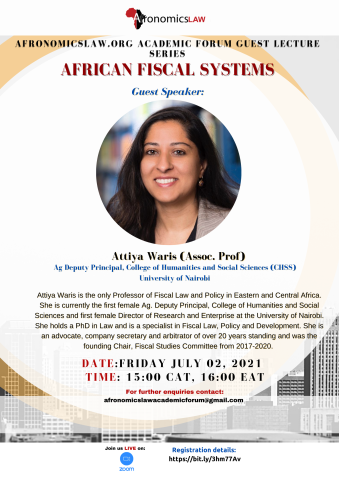 July 1, 2021
The Afronomicslaw.org Academic Forum invites you to join their guest lecture series.
Title: African Fiscal Systems
Date: Friday, July 2, 2021
Time: 15.00 CAT, 16.00 EAT
Zoom Registration here
Guest Speaker:
Attiya Waris (Assoc. Prof)
Ag Deputy  Principal, College of Humanities and Social Sciences (CHSS) University of Nairobi
Attiya Waris is the only Professor of Fiscal Law and Policy in Eastern and Central Africa. She is currently the first female Ag. Deputy Principal, College of Humanities and Social Sciences and first female Director of Research and Enterprise at the University of Nairobi. She holds a PhD in Law and is a specialist in Fiscal Law, Policy and Development. She is an advocate, company secretary and arbitrator of over 20 years standing and was the founding chair, Fiscal Studies Committee from 2017 - 2020.
She spearheaded the first agreement on sharing of date between a University and a revenue agency globally in 2016. She teaches at the Law School, University of Nairobi, Kenya, the Law School, University of Rwanda and the Centre for Human Rights, University of Pretoria and has previously taught in Malaysia and the United Kingdom. She has researched and published on global, African, Asian, European as well as Latin American issues. Her book 'Tax and Development' (2013) is the first publication globally that links the areas of tax and human rights and her more recent publication 'Financing Africa' is the first publication globally to map out African fiscal systems.
She was a nominee in 2017 for the position of UN Special Rapporteur on Development and is an Observer to the UN Tax Committee. She has a page on Wikipedia and her opinions have been featured in the Irish Times, BBC, Al Jazeera, Trouw, DutchNews, NationTV, African Arguments, Standard News, Sierra Leone Telegraph, the Namibian, the Spider's Web Documentar. She is fluent in English, French and Kiswahili. She has been invited to speak at some of the leading international, continental and regional organizations & universities as well as governments and national parliaments across the world. Prof Waris is visible on social media. 
For further enquiries, please contact afronomicslawacademicforum@gmail.com.