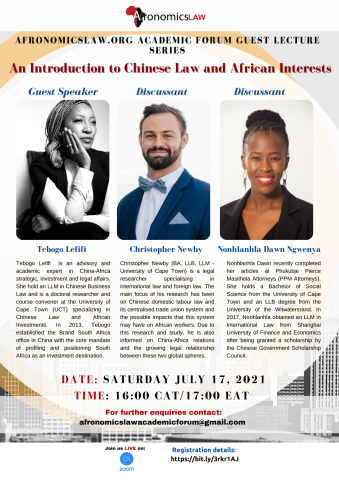 July 14, 2021
The Afronomicslaw.org Academic Forum invites you to join their guest lecture series.
Title: An Introduction to Chinese Law and African Interests
Date: Saturday July 17, 2021
Time: 16:00 CAT, 17:00 EAT.
Zoom Registration here.
Guest Speaker:
Tebogo Lefifi is an advisory and academic expert in China-Africa Strategic, investment and legal affairs. She holds an LLM in Chinese Business Law and a doctoral researcher and course convener at the University of Cape Town (UCT) specializing in Chinese Law and African Investments. In 2013, Tebogo established the Brand South Africa office in China with the core mandate of profiling and positioning South Africa as an investment destination.
Discussants:
Christopher Newby is a legal researcher specializing in international and foreign law. The main focus of his research has been on Chinese domestic labour law and its centralized trade union system and the possible impacts that this syetm may hav eon African workers.
Nonhlanhla Dawn Ngwenya recently completed her articles at Phukubje Pierce Masithela Attorneys (PPM Attorneys). She holds a Bachelor of Social Science from the University of Cape Town and an LLB degree from the University of the Witwatersrand. In 2017, Nonhlanhla obtained an LLM in international Law from Shanghai University of Finance and Economics after being granted a scholarship by the Chinese Government Scholarship Council.
For further enquiries, please contact afronomicslawacademicforum@gmail.com.