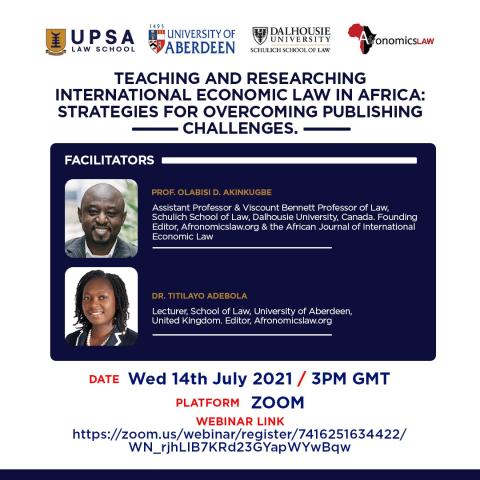 July 2, 2021
International economic law is an emerging area of teaching, research, and practice in Africa. The area, which is a sub-field of international law, is concerned with the regulation of economic relations between states as well as the conduct of private parties involved in cross-border economic and business transactions.
The area includes subjects such as international investment law, international trade law, intellectual property law, international financial law, and international commercial arbitration.
In a bid to encourage research and publication in international economic law, the organisers of this event deem it fit to provide a platform to shape critical and context-driven analysis among faculty members in teaching and researching in the field in Africa. The webinar will feature a discussion of the following thematic areas, among others.
Publishing in Reputable Journals and Avoiding Predatory/Fishing journals.
Should I collaborate as an early researcher?
Conferences and workshop participation/Abstract writing.
How do I choose my research topics?
How do I develop my research expertise?
How do I source for research materials?
 How do I plan my publications?
How do I address feedback and reviewers' comments? 
How do I balance my academic work with other commitments?
Date: Wednesday, July 14, 2021
Time: 3pm (GMT)
Platform: Zoom, to register for this event, click here