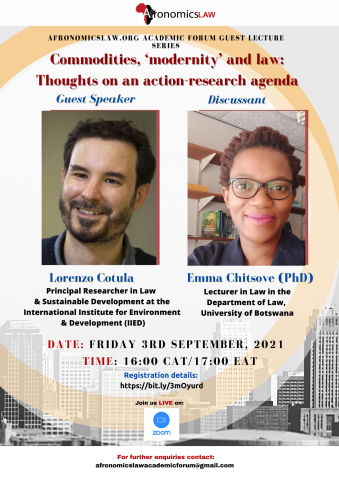 September 1, 2021
The Afronomicslaw.org Academic Forum invites you to join their next guest lecture series.
Topic: Commodities, 'Modernity' and Law: Thoughts on an Action-Research Agenda
Date: Friday, September 3, 2021
Time: 16.00 CAT/17.00 EAT
To register for this event on zoom, click here
Guest Speaker
Bio
Lorenzo Cotula is a principal Researcher in Law and Sustainable Development at the International Institute for Environment and Development (IIED), a policy research institute based in the United Kingdom. He is also a Visiting Professor at the School of Law, University of Strathclyde. For the past 20 years, Lorenzo has been collaborating with researchers, civil society and government agencies in Africa, Asia and Latin America, as well as with bilateral and multilateral development agencies. His research and policy work focuses on the legal arenas where natural resource governance meets the global economy - cutting across land and natural resource law; international investment law; law and transnational value chains; human rights; political economy of natural resources and foreign investment; and legal empowerment, citizen agency and public accountability. 
Discussant:
Bio:
Dr Emma Chitsove is a Lecturer of Law at the Department of Law, University of Botswana, and a legal consultant. She specialises in International Investment Law, Law of the World Trade Organization and Environmental Law. Her scholarship includes citizen economic empowerment, environmental law and the regulation of corruption in international investment treaties. As a consultant, she has worked with non-governmental organizations, business entities and inter-governmental organizations on cross-cutting issues involving citizen economic empowerment, community-based management of natural resources and regulation of foreign investments. Emma holds a Doctor of Laws and Master of Law in International Trade and Investment Law with the University of Pretoria, South Africa, and a Bachelor of Laws (Hons) from Midlands State University, Zimbabwe. 
For further inquiries, contact afronomicslawacademicforum@gmail.com