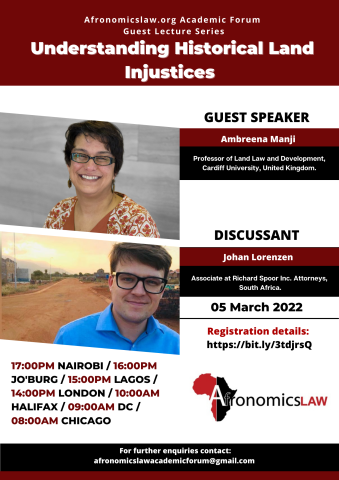 March 2, 2022
Topic: Understanding Historical Land Injustices
Date/Time: Mar 5, 2022 05:00 PM (Nairobi)
Zoom Registration Link here.
Guest Speaker:
Professor Ambreena Manji is a Professor of Land Law and Development at Cardiff University. She was previously Director of the British Institute in Eastern Africa (2010-2014). Her research is focused on Law and Society in Africa. It is strongly interdisciplinary and includes work on law in African literature, African history, legal education and women and the law. Her most recent book is The Struggle for Land and Justice in Kenya (James Currey/Boydell & Brewer 2020). The book appeared in Eastern and Southern African paperback published by Vita Books in 2021. The book was a finalist for the US African Studies Association Best Book prize 2021. Ambreena was president of the African Studies Association UK (2018-2020) and is currently a co-editor of African Affairs and a member of the Social and Legal Studies editorial board. She is a member of the Governing Council of the Arts and Humanities Council (AHRC).
Discussant:
Johan Lorenzen is an associate at Richard Spoor Inc. Attorneys, a South Africa-based law firm, where he mainly works with communities protecting their land from corporate and state encroachment. He also works with RSI teams litigating against corporations on behalf of workers and consumers. While he is primarily a litigator, Johan writes and speaks on communities' commitment to a more just world for themselves and for others and the ways that lawyers, civil society, and global political movements can stand in solidarity with communities. Johan holds a BA in Political Science from Macalester College and an LLB from the University of Cape Town.