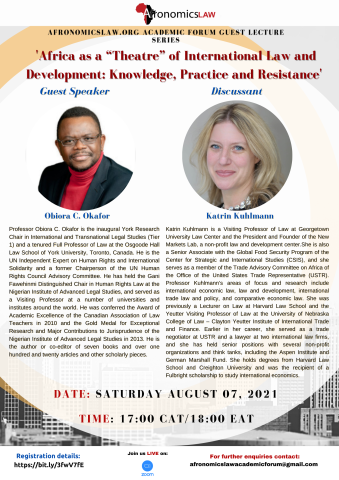 August 5, 2021
The Afronomicslaw.org Academic Forum invites you to join their next guest lecture series. 
Title
Africa as a "Theatre" of International Law and Development: Knowledge, Practice and Resistance
Date: Aug 7, 2021
Time: 17:00 CAT/ 18:00 EAT
Guest Speaker:
Bio
Professor Obiora C. Okafor is the inaugural York Research Chair in International and Transnational Legal Studies (Tier 1) and a tenured Full Professor of Law at the Osgoode Hall Law School of York University, Toronto, Canada. He is the UN Independent Expert on Human Rights and International Solidarity and a former Chairperson of the UN Human Rights Council Advisory Committee. He has held the Gani Fawehinmi Distinguished Chair in Human Rights Law at the Nigerian Institute of Advanced Legal Studies, and served as a Visiting Professor at a number of universities and institutes around the world. He was conferred the Award of Academic Excellence of the Canadian Association of Law Teachers in 2010 and the Gold Medal for Exceptional Research and Major Contributions to Jurisprudence of the Nigerian Institute of Advanced Legal Studies in 2013. He is the author or co-editor of seven books and over one hundred and twenty articles and other scholarly pieces.
Discussant
Bio
Katrin Kuhlmann is a Visiting Professor of Law at Georgetown University Law Center and the President and Founder of the New Markets Lab, a non-profit law and development center. She is also a Senior Associate with the Global Food Security Program of the Center for Strategic and International Studies (CSIS), and she serves as a member of the Trade Advisory Committee on Africa of the Office of the United States Trade Representative (USTR). Professor Kuhlmann's areas of focus and research include international economic law, law and development, international trade law and policy, and comparative economic law. She was previously a Lecturer on Law at Harvard Law School and the Yeutter Visiting Professor of Law at the University of Nebraska College of Law – Clayton Yeutter Institute of International Trade and Finance.
For further enquiries contact afronomicslawacademicforum@gmail.com