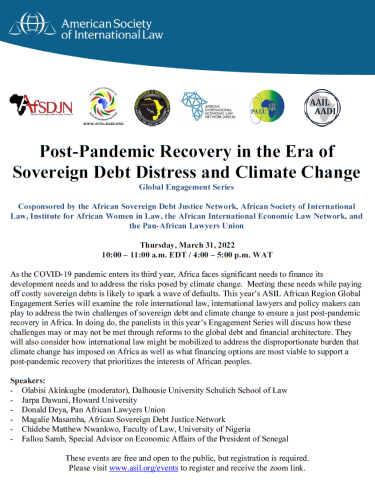 March 17, 2022
Post-Pandemic Recovery in the Era of Sovereign Debt Distress and Climate Change
The American Society of International Law Global Engagement Series 
Cosponsored by the: African Sovereign Debt Justice Network, African Association of International Law, African Society of International Law, Institute for African Women in Law, African International Economic Law Network, and Pan-African Lawyers Union
Thursday, March 31, 2022 10:00 – 11:00 a.m. EDT / 4:00 – 5:00 p.m. WAT
As the COVID-19 pandemic enters its third year, Africa faces significant needs to finance its development needs and to address the risks posed by climate change. Meeting these needs while paying off costly sovereign debts is likely to spark a wave of defaults. This year's ASIL African Region Global Engagement Series will examine the role international law, international lawyers and policy makers can play to address the twin challenges of sovereign debt and climate change to ensure a just post-pandemic recovery in Africa. In doing do, the panelists in this year's Engagement Series will discuss how these challenges may or may not be met through reforms to the global debt and financial architecture. They will also consider how international law might be mobilized to address the disproportionate burden that climate change has imposed on Africa as well as what financing options are most viable to support a post-pandemic recovery that prioritizes the interests of African peoples.
Speakers:
- Olabisi Akinkugbe (moderator), Dalhousie University Schulich School of Law
- Jarpa Dawuni, Howard University
- Donald Deya, Pan African Lawyers Union
- Magalie Masamba, African Sovereign Debt Justice Network
- Chidebe Matthew Nwankwo, Faculty of Law, University of Nigeria
- Fallou Samb, Special Advisor on Economic Affairs of the President of Senegal
These events are free and open to the public, but registration is required. Please visit www.asil.org/events to register and receive the zoom link.